In any given month, there are millions of taxi trips in Nevada alone, according to the Nevada Taxi Cab Authority. The sheer multitude of taxis on the road makes the likelihood of being involved in an accident much more likely. These accidents can result in serious injuries that take time to treat, meaning an abundance of medical bills, time off of work, and even permanent disability. If you or someone you love has been injured in a taxi cab accident, the accident lawyers at De Castroverde can help.
How Likely Are You to Be Injured In a Taxi Accident?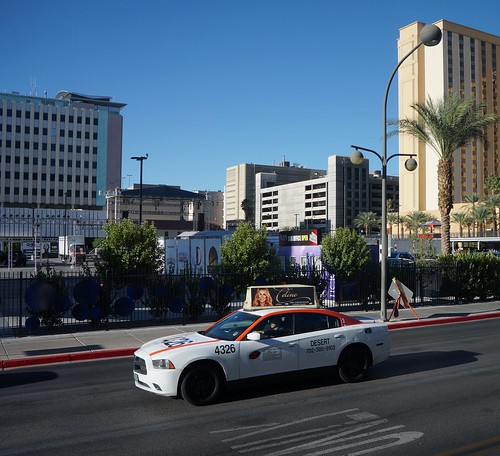 Taxi cab accidents are quite common in Las Vegas due to the number of visits to the city, the high number of taxis, and the number of other drivers on the road. Approximately 16 different taxi companies serve the Las Vegas valley, with around 3,250 cars within the taxi fleet and 10,000 different taxi drivers.
Every month there are more than one million taxi cab trips completed in Nevada. Taxi drivers may drive with unnecessary risk to get as many trips done in as little time as possible. This negligence can cause accidents that result in serious injury or even death.
Common Causes of Taxi Cab Accidents
There are several common causes of taxi cab accidents in Las Vegas and the surrounding area, including:
Reckless or negligent driving. Racing other vehicles, ignoring traffic rules, and any other reckless behavior can lead to accidents in a taxi cab.
Driving while impaired. Anytime a driver gets behind the wheel when they're impaired due to alcohol, drugs, or even fatigue, the risk of being involved in an accident increases significantly.
Distracted driving. This includes things such as using a cell phone while driving. Your taxi driver may be distracted by navigation, radio, or other communication sources.
Poor vehicle maintenance. Failing to maintain the taxi cab properly can cause brake failure or a multitude of other maintenance-related issues.
Ignoring posted speed limits. Speeding is one of the leading causes of automobile accidents in the country. Taxi cabs are no exception to this. Speeding can also increase the severity of injuries sustained in an accident.
Abrupt stopping. Slamming on the brakes can cause a rear-end collision quickly.
Aggressive driving. Taxi drivers have work demands that increase their need to get their current trip done quickly. This can cause them to ignore traffic laws, make risky maneuvers, or take other shortcuts as a result.
Common Injuries Sustained in Taxi Accidents
Injuries vary in any vehicle accident, including those that involve taxis. While the severity of these injuries depends on various factors, it's always important to seek proper medical care after you're involved in an accident. Factors that may potentially impact your injuries include the speed at which the accident occurs, the number of vehicles involved in the accident, and the severity of the accident itself. Common injuries include:
Head injuries.
Concussions.
Spinal cord damage.
Whiplash.
Soft tissue injuries and bruising.
Fractured bones.
Damage to internal organs.
Amputations.
Emotional distress.
If you've been involved in a taxi accident and have suffered from any of the injuries above, you may have the right to file a personal injury claim. Reach out to one of our Las Vegas attorneys who specialize in taxi cab accidents today.
Who Is Liable in a Taxi Accident?
Las Vegas taxi accidents are commonplace, but it can sometimes be challenging to determine who should be at fault for your accident. It won't be you since you're a passenger, but there may be a question about whether another driver caused the accident or your driver. If your accident was due to poor road conditions or street signage, the entity responsible for those might be held at fault.
If a part of the taxi was defective and determined to have caused the accident, the manufacturer could be liable. Numerous people can be at fault for an accident. The problem arises when determining who that person is. De Castroverde can help find out who was at fault for your accident so that you get the compensation you deserve for your injuries.
What Damages Can I Seek?
No one answer fits all when it comes to compensation for damages. Certain damages are involved in taxi cab-related accidents. These include:
Reach Out to De Castroverde Law Group Today
If you've been injured in a taxi cab accident, reach out to the personal injury team at De Castroverde today. Our attorneys are experts in personal injury cases and the specific laws and rules surrounding taxi cab accidents. If you have questions, you can send us a secure message online to our personal injury attorneys or reach us by phone at 702.222.9999 to see how we can help you. We will get you the answers you need and provide you with the representation that you deserve.
De Castroverde Law Group – Accident & INjury has several convenient locations, including Reno, Tivoli Village, and downtown Las Vegas, to make serving each of our clients easier. We will provide you with the one-on-one attention you deserve to get you a fair settlement.