What Is Gross Negligence?
The foundation of every personal injury claim in Nevada is negligence, either ordinary or gross. When someone fails to act or is negligent in their actions which causes harm to another person, the injured person can seek compensation from the party at fault. The amount of compensation is significantly impacted by whether the negligence is classified as ordinary or gross negligence.
What Is Ordinary Negligence?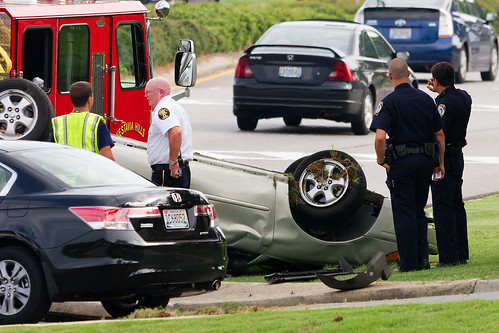 When you fail to meet ordinary care, it's considered ordinary negligence. Drivers are required to follow traffic laws in order to prevent car accidents. If a driver fails to exercise that care, such as speeding or texting and driving, that's considered negligent behavior. When negligence causes a car accident, the injured party may file a personal injury lawsuit to seek monetary compensation. The plaintiff in these cases must be able to prove the following:
The party at fault owed a legal duty of care.
The at-fault party breached this duty of care.
That breach of duty caused the accident.
The accident caused damages to the plaintiff, either property or bodily.
Ordinary negligence refers to a careless mistake that resulted in harm to another person. If the at-fault party took more care to prevent the accident, the damages would not have occurred.
What Is Gross Negligence?
Gross negligence is still a breach of the duty of care but at a more severe level. Gross negligence includes actions that were reckless, malicious, or intentional. It can also include a wanton endangerment or disregard for others or an intent to harm or fraud the victim. This level of negligence is either committed with a blatant disregard for others or deliberately. The at-fault party should have known or knew for sure that their inaction or action would more than likely cause damages and simply did not care for the safety of others.
A driver who's speeding and driving recklessly in a residential area with high pedestrian traffic involved in an accident with a pedestrian would be a gross negligent accident. That driver knew they weren't following the traffic laws in a high-risk area but did it anyway. Another example includes property owners knowing that the stairs need repair, refusing to fix them, yet allowing visitors to use them, resulting in injuries due to their collapse. Nursing home staff who fails to provide basic care such as water, food, or medications to a resident for several days is also an example of gross negligence.
To prove gross negligence, the injured party must prove the following:
The party at fault owed a duty of care.
The party at fault breached that duty of care.
The actions of the at-fault party were deliberate or demonstrated an extreme lack of care.
The breach of duty caused the accident.
Damages resulted from the accident, either property or bodily.
Each type of negligence is treated differently by a court of law in Nevada. Proof of gross negligence can have a significant impact on the compensation awarded to the plaintiff.
What Type of Damages Can You Receive for Gross Negligence Lawsuits?
Both ordinary and gross negligent accident lawsuits can expect to receive compensatory damages, including economic and non-economic. Economic damages include lost wages, current medical bills, transportation to appointments, rehabilitation, ongoing medical services, future lost wages, future medical bills, chiropractic care, and the cost of personal care or household services. Non-economic damages include loss of quality of life, loss of joy in activities, mental anguish, emotional strain, and pain and suffering.
A finding of gross negligence may result in the plaintiff being awarded punitive damages as well. Punitive damages are additional compensation added as a means to punish the at-fault party more for their malicious, intentional, or reckless behavior.
Do You Need an Attorney in Gross Negligence Cases?
The short answer to this question is no; however, it's imperative to understand that cases involving Nevada gross negligence can be challenging and complex, and the assistance of an experienced personal injury negligence attorney can significantly increase your chances of winning your case. The team ad De Castroverde is prepared to investigate your claim to determine what happened, who was at fault, and if the at-fault party acted with disregard or recklessness, causing the accident.
From the initial paperwork, through an investigation and possible reconstruction of the accident, your personal injury negligence lawyer will work hard to gather evidence and build a strong case proving the gross negligence of the at-fault party. Your lawyer will also handle all communications with the defendant's insurance company and attorney, taking the stress of your personal injury case off of you. They will work hard to get you the monetary compensation you deserve for your specific gross negligence case.
The defendant and their insurance company will have lawyers working hard to minimize the payout required of them in a gross negligence case. You should have someone fighting to protect your rights and to get you a fair settlement too.
Why Hire a De Castroverde Personal Injury Lawyer?
The team at De Castroverde guarantees that you will receive excellent service from everyone you work with, from the receptionist to the attorney. They strive to communicate clearly so that you are always aware of the progress of your case, and any questions you may have are answered quickly and concisely. De Castroverde offers a stress-free, welcoming environment to help you relax in your time of legal issues. You will get to work with a team of trained professionals, including paralegals, legal assistants, attorneys, and experts on the details of your specific case.
De Castroverde is one of the first law firms in Las Vegas to offer a fluent Spanish-speaking staff to help eliminate any communication gaps. Each client is seen as a top priority, which means your personal injury negligence lawyer will go above and beyond to meet your needs.
If you or someone you love has been involved in an accident and you suspect gross negligence, don't hesitate to reach out to the team at De Castroverde. We offer a free case evaluation to discuss the specifics of your case, answer any questions you may have, and provide you with an estimate of the compensation you deserve. You can reach us by phone 24 hours a day, seven days a week at 702.222.9999, or complete our convenient online contact form. Let us get started on your case today!