Top Free Things to Do in Las Vegas
While Las Vegas is known for its high-stakes gambling, high-end entertainment, and unbelievably delicious dining options, there is also a multitude of free attractions for every member of your family. If you haven't explored any of these magnificent and free amusements, you definitely need to add a few of these to your schedule soon.
The Aquarium at The Silverton Hotel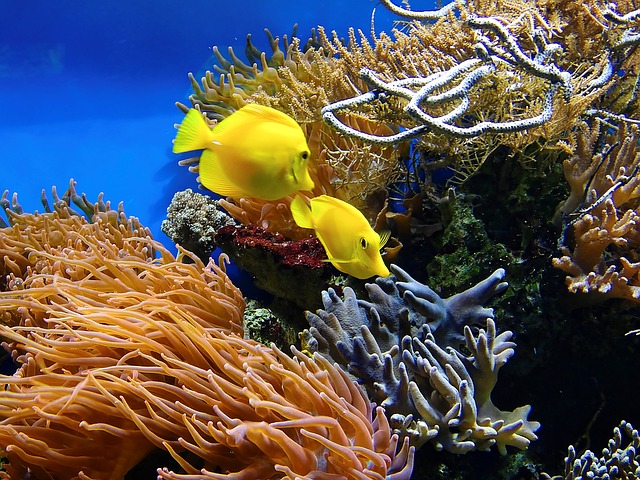 Named the "Best Free Attraction in Las Vegas," the Aquarium at The Silverton Hotel is home to thousands of tropical fish and spectacular sea life in more than 117,000 gallons of water. Plus, there are live mermaids swimming in the tank, and they love to interact with all who visit the aquarium. Children and adults alike will be amazed at the various species of sharks, curious stingrays, and iridescent exotic fish. Every day at 1:30 pm and 4:30 pm there are fish feedings where marine biologists interact with visitors from inside the tank!
The mermaids of the aquarium have been featured in several media outlets and have been involved with the non-profit organization, Project Mermaids. This charity helps bring awareness to the Save Our Beach Foundation.
For more aquatic fun, be sure to visit the other free aquariums in Las Vegas, such as the 500-gallon jellyfish aquarium at the Mermaid Lounge in the Silverton Hotel. The freshwater aquariums at the Bass Pro Shops in Las Vegas feature an 18,000-gallon water tank with beautiful rock formations and live Koi. There are three more aquariums to view here as well that are filled with trout, channel catfish, carp, and bass.
Bellagio Conservatory and Botanical Gardens
You definitely do not want to miss the Bellagio Conservatory and Botanical Gardens. This 14,000-square-foot display features inspiring sights, sounds, scents, and colors of each season. The Horticulture and Engineering team at the Bellagio updates the gardens in the conservatory as the seasons change. It is a masterful presentation of some of the most beautiful flowers in the world.
The attention to detail in these gardens is absolutely exquisite. A staff of 120 maintains the gardens and the entire grounds at the Bellagio. They have the ability to choose just the right flowers to accent the trees, gazebos, bridges, and ponds. As the seasons change, the displays are updated as well. In spring, you'll see flowers such as delicate cherry blossoms, whereas in summer you'll find fragrant and vivid flowers that grow well in the hot summer weather. For the fall season, there is plenty of orange, yellow, brown, and gold to complement the fall leaves, and of course, winter can be seen through the cheery and bright floral displays.
Coca-Cola Store Las Vegas
You can't go to Las Vegas without visiting the Coca-Cola Store. This world-famous retail space features exclusive Coca-Cola merchandise, Las Vegas souvenirs, and other curious collectibles. You can visit this store and not spend a penny if you'd like, but, of course, it's never a bad thing to take home a souvenir or two.
There are several opportunities for fun and excitement at this nostalgic shop. Explore the history of Coca-Cola and how it all started. You can also have your photo taken in the evening as the giant Coca-Cola bottle lights up outside the store. For a one-of-a-kind experience, have your photo taken with the famous Coca-Cola Polar Bear.
Don't leave until you've experienced the Coca-Cola fountain on the second level of the store. For a cheap treat, enjoy a delicious Coke Float or sample up to 16 different international beverages at the Taste of the World beverage tray.
Downtown Container Park
Downtown Container Park is an outdoor shopping center that provides a ton of amusement for everyone in your family. First, all the shops in Container Park are made out of shipping containers. They've recycled old containers to use as retail stores in this one-stop-shopping center on historic Fremont Street. Next, your kids won't want to leave once they start playing at the Play Zone.
One of the most unique sites at this park is the awakening of The Mantis. Every night at sundown a drum circle uses its power of music to wake up the giant mantis. This amazing display is then followed by a thrilling fire show.
If you enjoy shopping, there are plenty of retail stores and shopping boutiques to explore. They have a wide range of shops from the Gimme 5 store, where everything is $5 or less, to the Art Box, a store that sells locally made jewelry, home decor, and art glass, as well as handcrafted clothing. You can also stop for a quick bite to eat if you'd like at places such as Mob Pie Pizza, Pinches Tacos, or Waffelato where they serve gelato made with their signature Hong Kong waffles.
Circus Circus Las Vegas
Who doesn't enjoy a circus? In Las Vegas, you can enjoy one for free! That's right, at Circus Circus you will experience the world's largest permanent circus each day at the Carnival Midway center stage. You will be amazed by the spectacular flying trapeze artists, amusing circus clowns, amazing feats of strength, and more.
Various performances include stunning aerial displays on silk from Argentina by Naira, a fantastic feat of balance and skill using only a ladder and German wheel from Russia by the Free Laddermen, and an aerial dance performed with chains by Shell Stachowicz.
Las Vegas Walk of Stars
If you love all things Hollywood, then you have to add the Las Vegas Walk of Stars to your itinerary. This walkway is similar to the Hollywood Walk of Fame but is a tribute to all those who helped make Las Vegas what it is today.
The Las Vegas Walk of Stars was created in 2004 on a four-mile stretch of Las Vegas Boulevard. A few of the stars you will see are Frank Sinatra, Wayne Newton, Dean Martin, Sammy Davis, Jr., Elvis Presley, and many more. Be sure to bring your phone or camera so you get your picture taken with your favorite Las Vegas star.
After learning more about the free activities in the Las Vegas area, have you decided which one you'll visit first? Are there any that we forgot to mention that is a favorite of yours? If so, we'd love to know more about them. We're always looking for more fun and free pastimes in the Las Vegas area. Contact us today and we'll be happy to add it to our list.