6 Educational Activities in Las Vegas
Las Vegas may not be known for the educational activities available in and around the city, but the Las Vegas area offers a plethora of fun, educational, and exciting activities. You can find something for everyone in Las Vegas, from museums to historical tours. The team at De Castroverde put together a list of our top six educational activities in Las Vegas to get you started.
The Mob Museum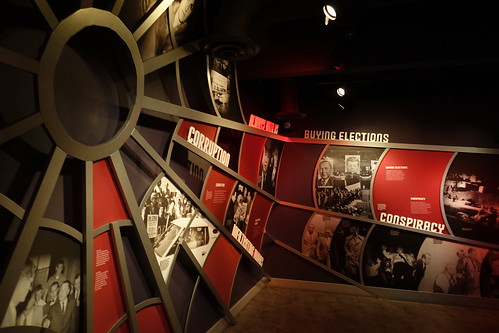 The Mob Museum is a National Museum of Organized Crime and Law Enforcement, located at 300 Stewart Ave. They are open daily from 9 a.m. to 9 p.m., with the Underground speakeasy and distillery offering hours of noon to 10 p.m. Monday through Wednesday and staying open until midnight Thursday through Sunday.
General admission for all exhibits for one day is $29.95. You can purchase a Deluxe pass for $44.95, adding one interactive experience, or the Premier pass for $48.95, which gets you two interactive experiences. If you're a Nevada resident, you'll save money at the Mob Museum. General admission for Nevada residents is $16.95, with a Deluxe pass at $29.95 and a Premier pass at $35.95. Current interactive experiences include Crime Lab, Distillery Tour and Tasting, and Firearm Training Simulator.
Bellagio Conservatory and Botanical Gardens and Fountains
The Horticulture and Engineering teams transform the 14,000 square foot Bellagio Conservatory and Botanical Gardens to showcase inspiring colors, sounds, scents, and sights each season. The gardens are free and open to the public 24 hours a day so that you can view the beautifully arranged plants, trees, and flowers at your convenience. Each year and season offers something new, so subsequent trips will mean there's something new to see.
The Bellagio Fountains also offer a free choreographed illuminated water show set to music for everyone to enjoy. The show takes place on Saturdays and holidays every 30 minutes from noon to 8 p.m., then every 15 minutes from 8 p.m. to midnight. You can catch the show on Sundays every 30 minutes from 11 a.m. to 7 p.m., and every 15 minutes after that until midnight. Monday through Friday, the fountains run every 30 minutes from 3 p.m. to 8 p.m. and then every 15 minutes until midnight.
Discovery Children's Museum
If you're visiting Las Vegas with small children, the Discovery Children's Museum is an ideal place to spend the day. Current exhibits include the Summit, Fantasy Festival, Eco City, and a Discovery Lab, a creative maker space and first of its kind in Nevada. You can also check out Patents Pending, Toddler Town, Water World, Solve It, and Young at Art. The Discovery Children's Museum offers hands-on entertainment for everyone on Tuesday through Saturday from 10 a.m. to 5 p.m. and Sundays from noon to 5 p.m.
Nevada residents receive a discounted rate of $12.50, compared to general admission of $14.50 for non-residents. Discovery Children's Museum also offers a discount to patrons with a valid EBT, SNAP, or WIC card for up to four tickets at just $3.00 each. In addition to these discounts, you can check out the Family Adventure Pass from the Las Vegas Clark County Library District for up to four free tickets, become a museum member for free admission, or present a valid military ID for $10.00 rate.
The Grand Canyon
If you're up for a drive, the Grand Canyon is within driving distance of Las Vegas and worth every mile. Visiting the Grand Canyon is free, but there are many tours you can sign up for that vary in price. Visit the Grand Canyon via Hummer, bus, or horseback. You can also arrange for helicopter and airplane tours of the Grand Canyon if that's more your speed.
The West Rim, located at 5001 Diamond Bar Road in Peach Springs, Arizona, is open daily from 7 a.m. to 7 p.m. In Grand Canyon Village, Arizona, you can visit the South Rim daily from 8 a.m. to 7 p.m. at S. Entrance Road. The North Rim is closed from October to May; otherwise, it's open at AZ-67 in North Rim, Arizona, from 8 a.m. to 6 p.m. daily.
The Flamingo Wildlife Habitat
Another family-friendly and free activity in Las Vegas is the Flamingo Wildlife Habitat, located at 3555 S. Las Vegas Boulevard, inside the Flamingo Hotel and Casino. This wildlife paradise is home to exotic waterfowl, Brown Pelicans, Chilean Flamingos, turtles, Koi, Albino Catfish, Sturgeon, hummingbirds, and songbirds. You can visit anytime from dawn to dusk to check out the 15 acres of a wildlife sanctuary in the middle of a casino in the middle of Las Vegas.
Red Rock Canyon
Just 30 minutes from Las Vegas, you can visit the scenic respite of the Red Rock Canyon, Nevada's first National Conservation Area. This beautiful, arid land receives over one million visitors every year. You can enjoy a one-way 13-mile scenic drive, camping, plants, wildlife, and the area's geology at Red Rock Canyon. There are also 26 numbered trails and hikes available for you to explore. Visiting hours vary by season, opening daily at 6 a.m., closing at 5 p.m. November through February, 7 p.m. in March and October, and 8 p.m. April through September.
The current fee for admission to Red Rock Canyon is $15 per car/truck, $10 per motorcycle, $5 per bicycle/pedestrian, and $15 per commercial tour vehicle plus $5 per person. Active military receives a free annual pass, while discounts are available for seniors age 62 and above on yearly and lifetime passes. An annual pass for Red Rock Canyon is $30 per person, while an America the Beautiful pass is $80.
Thank you for checking out these six educational activities in the Las Vegas Area. If you think we missed one, reach out to the team at De Castroverde at 702-803-3263 or fill out our online contact us form. We'd love to check out additional educational activities in Las Vegas and the surrounding area and look forward to hearing from you.