What to do when you're in a bus accident in Las Vegas
Whether you're a resident of Las Vegas or you're visiting to hit the Strip, you may be relying on public transportation or ride-sharing services to get around. Whenever you're on the road, you're at risk for a bus accident, but your chances increase, depending on how busy it is and the time of day. While some assume the laws covering bus accidents are the same as those that cover other automobile accidents, some key differences exist.
Common Causes of Bus Accidents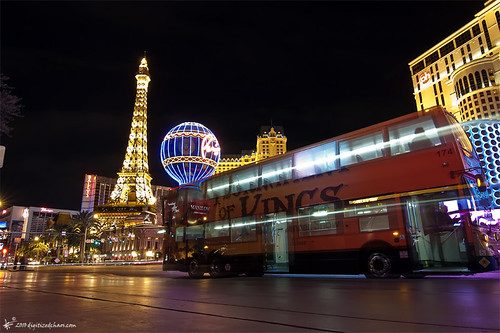 Bus accidents are relatively common, especially in heavily populated and tourist areas such as Las Vegas. These accidents can result in serious, even fatal injuries. We handle various types of accident claims from a variety of causes. Some of the common causes of bus accidents are:
Mechanical failure.
Dangerous weather or road conditions.
Driving under the influence of drugs or alcohol.
Failure to keep up with vehicle maintenance.
Driving while distracted.
Negligence such as speeding, ignoring traffic signals, and ignoring road conditions at the time of the accident.
We at De Castroverde Accident & Injury Lawyers take these types of cases seriously and focus on getting our clients the settlement they deserve. No matter what the cause of your accident, we can help. Our experienced attorneys will work diligently to get you the best outcome possible.
What Happens After an Accident?
Unlike a car accident, where you would likely collect information  to submit to the insurance company, bus accidents follow a different evidence collection process. These cases are often taken over by the company that owns the bus involved, not the driver. The company will perform its investigation, which may cause a conflict of interest. Sometimes, a company will try to minimize its liability in the accident and even attempt to be released from the claim. An experienced attorney can help you make sure this doesn't happen and that you get adequate compensation.
You can also try to collect information on the scene to make sure you have as much evidence as possible. If you're unable to do so, you can assemble a document that outlines the circumstances of the accident as you remember it. You should include the date and time of the accident, location, and a description of the bus, including the company. You can record your pain levels, sources of pain, any bleeding, and pictures of any injuries. You should also contact a bus accident lawyer to help get you the settlement you deserve.
Determining Who's at Fault
Accidents involving buses and other mass transit options can be complicated when it comes to determining fault. The attorneys at De Castroverde Accident & Injury Lawyers are experienced in the area and can help determine who was at fault in your accident. The bus driver may be held liable if your accident was caused by driver negligence or error, such as driving under the influence, distracted driving, driver fatigue, and driving with multiple traffic violations.
If the driver works for a transit company, the company may be liable for an accident that resulted from inexperienced or improperly trained drivers, improper vehicle maintenance, or mechanical failures. A municipal entity, such as a transit bus or school bus, may also be held responsible for an accident. There are different rules involving these types of accidents.
Statute of Limitations for Personal Injury Claims
If you're involved in a bus accident in Nevada, you have two years from the date of an accident to file a claim or lawsuit. Of course, there are some exceptions, but this is the standard rule. If you wait too long to file a claim, it may be rejected by the insurance company. Speaking with an attorney can help determine your need for legal help before it is too late to take action.
How Can a Personal Injury Attorney Help?
If you've been injured in a bus accident, you may be facing medical bills, damages to your vehicle, or loss of wages. In that case, you have the right to file a claim or lawsuit against the responsible party.  A skilled personal injury attorney has the knowledge needed to get the compensation that you require to help you recover from injuries, pay medical bills, and overall enhance your quality of life.
We'll fight hard to make sure you're represented fairly and that you receive a sufficient settlement. There are numerous rules and regulations involved with a bus accident, and it's essential to have a thorough understanding of the laws in Las Vegas when pursuing a claim. If you've been injured, contact De Castroverde Accident & Injury Lawyers at 702.222.9999 today to see how we can help you.
Challenges of Bus Accident Claims and Lawsuits
Navigating your way through the legal process after a bus accident can be challenging. We know that some buses are dangerous because of their size and their increased risk of tipping over. There are typically no safety restraint systems in place on a bus. If a bus has caused an accident with another motor vehicle, you will have to deal with a third party and file a claim with their insurance. This claim may be complex since drivers typically rely on the company they work for to handle the process.
These accidents can cause severe injuries, such as internal injuries, brain and head injuries, and spinal cord injuries. Other injuries, such as broken bones, still require treatment and possibly ongoing physical therapy. An attorney can help take care of these challenges so that you can pay your medical bills and cover any lost wages.
Reach Out to Us Today
If you or a loved one have been injured in a bus accident, reach out to our team of experienced attorneys at De Castroverde Accident & Injury Lawyers. You can call us at 702-222-9999 or contact us online 24 hours a day, seven days a week, through our messaging system. We have several convenient locations to better serve those from the communities of Las Vegas and Reno. Let us help you get the representation and compensation that you deserve.