What to do after being in a car accident
Car accidents can leave you shaken up, even if it's just a minor fender bender. A serious accident can be life-altering and leave you in shock. When you're involved in a car accident, you may not be able to think straight about what to do next. It can be a confusing time for everyone involved. Thinking about how to react to a car accident before it happens can help you be better prepared should you ever need this information. Here's what to do after being in a car accident.
Call 911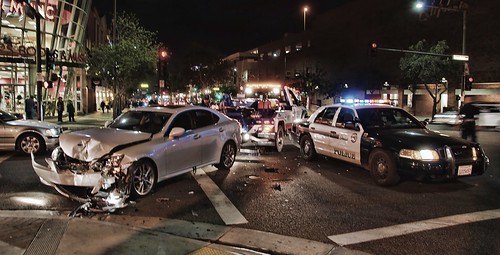 With or without injuries, you'll want to dispatch emergency services to the scene of the accident. The police will investigate the scene to write up an accident report for insurance claims. An ambulance or first responders will evaluate everyone involved to check for injuries. Not all injuries after a car accident are evident, so it's imperative to have medical professionals examine all parties to rule out any invisible injuries. Sometimes the body goes into shock and may not experience the pain from an injury right away. It will also be beneficial to have any medical conditions documented for insurance claims.
You will want to obtain a copy of the police report for any insurance claims. You can generally get a copy 24 hours after an accident from the responding police department.
Stay Safe
If your vehicle is blocking traffic, and it's driveable, you'll want to move it out of the way. In Nevada, you're allowed to move your vehicle. In fact, you're not allowed to block traffic indefinitely if you can help it. Nevada law requires drivers to stop their vehicles and move them to a safe location. This can be a parking lot nearby or the shoulder. Moving your vehicle may prevent additional accidents from occurring due to obstructing traffic.
Exchange Information
All drivers involved in the car accident should exchange information, including name, address, phone number, and insurance carrier. You can also document the make and model of the vehicle for your records. Nevada law requires all parties to provide insurance information, even when you're not at fault. If you do not have insurance, you must give the other driver sufficient evidence for them to locate you.
Never Apologize
Do not admit fault or apologize. Your apology can be used as an admission of guilt by the other driver's insurance company and may hamper any claims. Even when you feel you may be at fault, you can never be certain that it wasn't the other driver's faulty brakes that caused the crash instead of you missing the yield sign.
Look for Witnesses
Take the time to look for anyone who may have witnessed the accident and request a witness report from them. If they don't have time to make a report, get their contact information so that you can reach out to them at a later date to get their view of the accident. Keep in mind that you'll want to contact them as soon as possible, so they're able to recollect as much information about the accident with it fresh in their minds.
Take Pictures
Use your phone or a camera to document the damage to the vehicles, any visible injuries, and damage to any personal property. You should also document anything that might be relevant to the case, such as a partially-covered stop sign or a fallen tree blocking the road that may have added to the cause of the accident. Get pictures of their license plate number as well. Photograph as much of the car accident scene as possible, as you never know what may come in handy for an insurance claim later.
Call Your Insurance
Whether or not you're at fault for the accident, you'll want to contact your insurance agent or company as soon as possible. This will expedite the claim process and get you closer to having your vehicle repaired so that you can drive it again. Note any pain you're experiencing to the insurance adjuster, including severity and location. You'll want to document any injuries at the early stages of an insurance claim so they can be attributed to the accident and not your weekend golf game. Most insurance companies require you to report any accident within 24 hours.
Stay Off Social Media
Don't share details of your car accident or injuries with your friends on social media. You should know that even with the best privacy settings, your friends may not be the only ones reading the details of your accident. Insurance adjusters and police investigators work hard to expose false claims by scanning social media, so keep your posts to a minimum. If you want to discuss your accident or injuries with your close friends, do so in person, or over the phone, rather than blasting those details across the internet.
Hire a Lawyer
Car insurance companies will have experienced lawyers working hard to keep your claim to a minimum. You should seek the counsel of a knowledgeable personal injury lawyer who specializes in car accidents to ensure you get the settlement you deserve. An insurance claim for a car accident can include economic and non-economic damages, and an attorney can help you put price tags on these. Monetary damages include lost wages, medical bills, chiropractic care, travel to appointments or medical facilities, future lost wages, future medical bills, and rehabilitation.
Non-economic damages can include emotional stress, mental anguish, loss of joy in activities, and pain and suffering. Furthermore, if the other driver is found to be at fault and acting with malicious intent or gross negligence, you could be awarded punitive damages. Punitive damages are designed to punish the at-fault driver for their thoughtless actions.
Contact De Castroverde
If you or someone you love has been involved in a car accident, reach out to the experienced team at De Castroverde today. Our highly-qualified lawyers can walk you through the next steps for filing an insurance claim and get you the settlement you deserve. We're available 24 hours a day, seven days a week at 702-803-2263 or via secure online messaging. The team at De Castroverde looks forward to providing you with the best personal injury car accident representation possible.