How and When to File a Vehicle Accident Claim
If you've been involved in an automobile accident in Nevada, it's your responsibility to file a claim with your insurance company for any reimbursements, including medical and property. Filing an accident claim can be confusing and challenging, especially so soon after an accident. So how and when to file a vehicle accident claim? The team at De Castroverde is here to help answer your questions and take on your case to ensure you get the settlement you deserve.
What Is a Vehicle Accident Claim?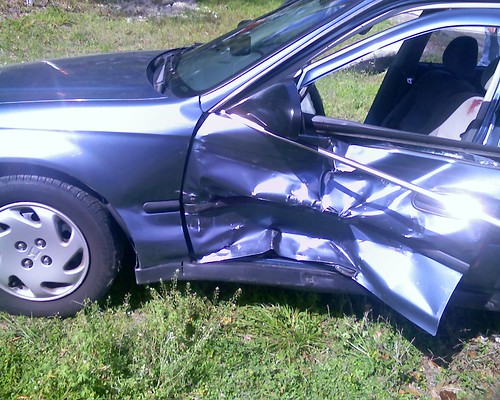 An automobile or vehicle accident happens when a motor vehicle strikes a pedestrian, stationary object, animal, or another vehicle. Motor vehicle accidents often result in property damage to the vehicles involved in the crash. There may also be serious injuries to the involved parties, sometimes resulting in death. Many factors may cause a motor vehicle accident, including:
Speeding. Driving over the posted speed limit is one of the leading causes of motor vehicle accidents in the United States. Driving faster than what is deemed safe for the road conditions is also considered speeding, regardless of what's posted.
Impaired driving. Driving while impaired includes driving under the influence of drugs, alcohol, certain prescription medications, and driving while fatigued. Impairment dulls the senses, reducing reaction time and judgment.
Inattentive driving. When driving, your primary focus should be on the road ahead and the vehicles around you. Inattentive driving such as texting, changing the radio station, eating a fast-food meal, or even talking to your passengers takes that focus off the road ahead.
Poor weather conditions. Drivers need to adjust their speed and pay extra attention to their surroundings during inclement weather such as snow, fog, blowing dust, high winds, and downpouring rain.
Defective auto parts. Anytime a part on a vehicle breaks down or goes bad, it increases the potential for an accident. Defective parts can include brakes, tires, and airbags.
Rubbernecking. Much like inattentive driving, when rubbernecking, a driver's attention is pulled off the road for them to gawk at a sunset, flashy billboard, another accident, increasing the risk of collision.
What Are the Five Legal Duties in Nevada Following a Vehicle Accident?
Nevada car accident law sets forth five legal duties that all drivers involved in a motor vehicle accident must follow. These duties are:
Move out of the way of traffic. If you are blocking the flow of traffic, you should move the vehicles off to the side. If possible, take pictures of the original scene before moving any vehicles to preserve evidence for a possible claim.
Call 911 to report any injuries. It's also imperative to call 911 to get the police on the scene to take a report and provide further evidence for any future claims.
Exchange information. All drivers involved should share contact information and any information relevant to the vehicle involved in the accident, including make, model, vehicle identification number, and insurance carrier.
Help others. If the accident includes injuries and you are able, you should help anyone with their injuries. This may include applying pressure to stop bleeding, immobilizing them, or getting them to medical facilities.
Report to DMV. If the accident is serious, it must be reported to the Department of Motor Vehicles (DMV). Police will often handle this step, but you may want to double-check.
These legal duties apply to all types of motor vehicle accidents. If you leave the scene of a motor vehicle accident, you risk being charged with a hit and run in the state of Nevada.
What Insurance Coverage Is Required in Nevada?
Nevada, like other states, has a minimum requirement when it comes to car insurance. You're required to carry $25,000 for bodily injury or death of one person in a collision, $50,000 total for bodily injury or death for two or more people involved, and $20,000 for injury or destruction of property of others in a collision. This minimum is written as 25/50/20 on an insurance policy and covers other people's injuries and property damage, but not those of the at-fault driver.
While not required, it's highly recommended that drivers also carry collision coverage to pay for damages to their property and uninsured/underinsured motorist coverage that will pay for damages if the at-fault party doesn't have insurance or has insufficient insurance coverage. It's against the law to drive a car in Nevada without insurance, resulting in a possible six months suspension of license and driving privileges. It costs $250 to reinstate your license after those six months.
How and When Should I File a Vehicle Accident Claim?
Immediately following the accident, you should contact your car insurance company to start an accident claim. Be sure to have all relevant information handy to answer any questions and give a thorough account of the accident. The at-fault driver is responsible for paying the damages, including property and bodily. Nevada is an at-fault state, meaning that a plaintiff can recover damages three different ways, including:
Filing a claim with their own auto insurance company.
Filing a claim with the other driver's auto insurance company.
Filing a personal injury claim.
Depending on the accident details, the severity of injury and damage, and possible liability, insurance companies will conduct a thorough investigation into the accident to determine fault and award damages.
Do I Need To Hire a Vehicle Accident Attorney?
The quick answer to this is no. It's not required for you to hire a car accident attorney in the state of Nevada. However, it's important to note that your chances of successfully winning your case increase if you hire a personal injury lawyer and the amount of your settlement. In addition, by working with a knowledgeable attorney who's well-versed in motor vehicle accidents, you can take the stress out of filing a claim and focus on healing.
If you or someone you love has been involved in a vehicle accident, reach out to the experienced team of De Castroverde Law Group. We can set you up for a free case evaluation to determine whether or not you have a personal injury case. We are available 24 hours a day, seven days a week at (702) 222-9999 or via our convenient online form.