Car Accidents Increasing in Las Vegas
Car accidents in Las Vegas are on the upswing, with 2021 likely being the deadliest for Nevada motorists in at least 14 years. Statewide, traffic deaths have increased to about 20% during the first 11 months of the year. Over half of those traffic deaths occur in Clark County, home of Las Vegas. It's important to have accident safety in mind when in busy intersections or driving at any time. Even if you are not directly involved in the accident, you may find yourself in a situation where accident safety is crucial.
Impaired drivers and excessive speed often lead to the list of accident causes. Find out more about the recent statistics, year-over-year trends, causalities, and who are the victims of traffic accidents across the state of Nevada, especially Las Vegas.
What Are the Recent Statistics?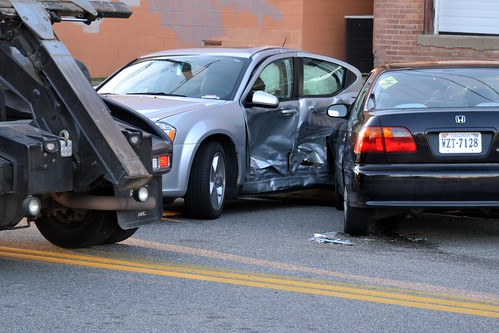 The Nevada Department of Public Safety & Transportation has a comprehensive dashboard that includes additional up-to-date statistics, accident prevention information, and safety tips. Detailed statistics back up the growing problem of traffic accidents in Las Vegas and Nevada.
For example, there have been 349 traffic fatalities in the state through November 2021, up 20% from 2020 and 25% from 2019. Of those fatalities, 79 were pedestrians, and 71 were motorists who weren't wearing a seat belts.
Pedestrian crashes make up close to a quarter of the state's total vehicle fatalities. 63% of pedestrian fatalities occur where there isn't a designated crosswalk, while 90% of pedestrian fatalities are on urban streets, with most deaths occurring in Clark County.
Bicyclists make up a much smaller number of traffic fatalities, about 2.5%. On the other hand, motorcyclists are 28 times more likely to die in the event of a crash. The National Highway Traffic Safety Administration urges all motorists to share the road and be alert. They also recommend that motorcyclists make themselves visible and use helmets and other protective devices. A helmet and protective clothing can help prevent severe injuries, including death, in a motorcycle accident.
Who Are the Victims of Traffic Accidents?
While drivers and passengers are the primary victims of fatal traffic accidents, about 25% of the deaths are pedestrians. Unrestrained motorists without seatbelts make up about 20% of the death toll. Many of these fatal accidents occur due to the leading two causes: impaired drivers and excessive speed. Traffic enforcement and driver education programs are among the measures taken in Las Vegas and greater Nevada to help reduce the top two causes of fatal accidents.
Overall, fatalities are up about 24% over 2020, including a similar increase in motorcyclist deaths. Motorcyclist and pedestrian fatalities occur at a much higher rate in Clark County than in Nevada at large.
Fatal accidents with unrestrained passengers are down slightly over 2020, but regular seat belt use could have prevented more deaths. Pedestrian deaths are down slightly as well, a number that could come down if pedestrians took certain precautions, such as avoiding jay-walking and wearing dark colors while walking at night.
What Are the Main Causes of Traffic Fatalities?
The top causes of traffic fatalities in Las Vegas and across Nevada are driver impairment and speeding. Impaired driving is the number one cause of crashes, injuries, and deaths in Nevada, leading to 133 deaths in 2018. Excessive speed comes a close second, and both are highly preventable.
Impaired driving includes alcohol, marijuana, or prescription drugs, which accounts for over 40% of fatal crashes in Nevada. Blood alcohol concentration, or BAC, limits are .02% for those under age 21, .04% for commercial license holders, and .08% for other motorists. Law enforcement handles marijuana use while driving the same as driving drunk, with officers basing arrests on observed impairment. Prescription drug use can also lead to driving under the influence charges.
Speeding, especially excessive speeding, is another major cause of accidents and fatalities, leading to 32.1% of Nevada's total fatalities. Many accidents caused by speeding drivers also include impairment as a contributing factor. Accidents caused by high rates of speed are becoming more commonplace in the Las Vegas area. Speeds exceeding 100 mph lead to more moving violations, with most tickets issued in Las Vegas.
Roads that are straight, flat, and wide are conducive to higher speeds, especially with motorists who may be impaired, racing, or driving high-end cars. Moves to reduce excessive speed include educating motorists about the dangers, engineering streets with traffic-calming features, boosting enforcement, narrowing roads, and installing interactive flashing signs to warn speeders.
Other contributing causes of accidents include lane departures and intersections. Lane departures (veering out of the lane and into oncoming traffic or other spaces) contributed to about 37% of Nevada's fatalities, while intersection-related crashes made up 32% of deaths. Safe driving approaches like being alert can prevent accidents. And other measures like roadway engineering and education can contribute to a safer driving environment.
Distracted driving, talking, texting, eating, using electronic devices, or other activities that take attention away from the road ahead also contributes to crashes. Non-drivers also need to be cautious. Most pedestrian fatalities occur mid-block where there is no designed crosswalk; pedestrian accidents are also more prevalent after dark, with 76% of pedestrian fatalities occurring at night.
Wearing a seat belt can't prevent an accident, but it is a safety measure that could have prevented some of the 21.5% of traffic deaths that occur to unrestrained drivers or passengers.
Each year, the Las Vegas area experiences more auto crashes, many of which are due to negligence. Motorists and others injured in an accident in Las Vegas are obligated to prove fault. It's essential to have an experienced attorney to protect your rights to fair compensation for property loss and injury.
Schedule a free consultation with De Castroverde Accident & Injury Lawyers if you or a family member were involved in a car accident. Our attorneys can evaluate your case and bring it to a prompt and fair conclusion. Contact us at 702-827-4891 or complete our convenient and secure online messaging form. A team member will be happy to answer any questions and advise you on the best course of action.