Six Best Seafood Restaurants in Las Vegas
Although Las Vegas isn't exactly on the coast, seafood restaurants in Sin City make it a point to bring you the freshest catch possible. Many of them fly their seafood in every day so that you can enjoy all your coastal favorites right here in Vegas. And after a long day of exploring the city, there's nothing like indulging your inner foodie. Las Vegas certainly has you covered, from Oysters Rockefeller to Maryland crab cakes to authentic Japanese sushi, Ahi tuna, and more.
To ease the decision-making process, we've brought together our top choices for seafood restaurants in the city. Whether you're looking for a luxurious fine-dining experience (and we all know Las Vegas has no shortage of luxury) or a more casual and slightly messy crab or shrimp boil, you'll find what you're looking for on this list.
CATCH
While CATCH has the reputation of attracting celebrities, you may be more captivated by their world-class sushi and decor. The entrance alone is a mesmerizing 80-foot tunnel of lights with cascading flowers, transporting you into their luxurious dining room. Most visitors stop for a series of photographs before entering the dining area.
Dinner at CATCH is as much a meal as it is an experience. Begin with hot starters featuring Mahi-Mahi, king crab, or Wagyu beef. Then delight in entrees that include re-imagined versions of traditional sushi and seafood dishes, such as their truffle sashimi and their signature CATCH roll, torched table-side. And don't forget to pair your meal with one of their colorful signature cocktails. You can find CATCH in the ARIA Resort & Casino, an MGM resort.
Joe's Seafood, Prime Steak & Stone Crab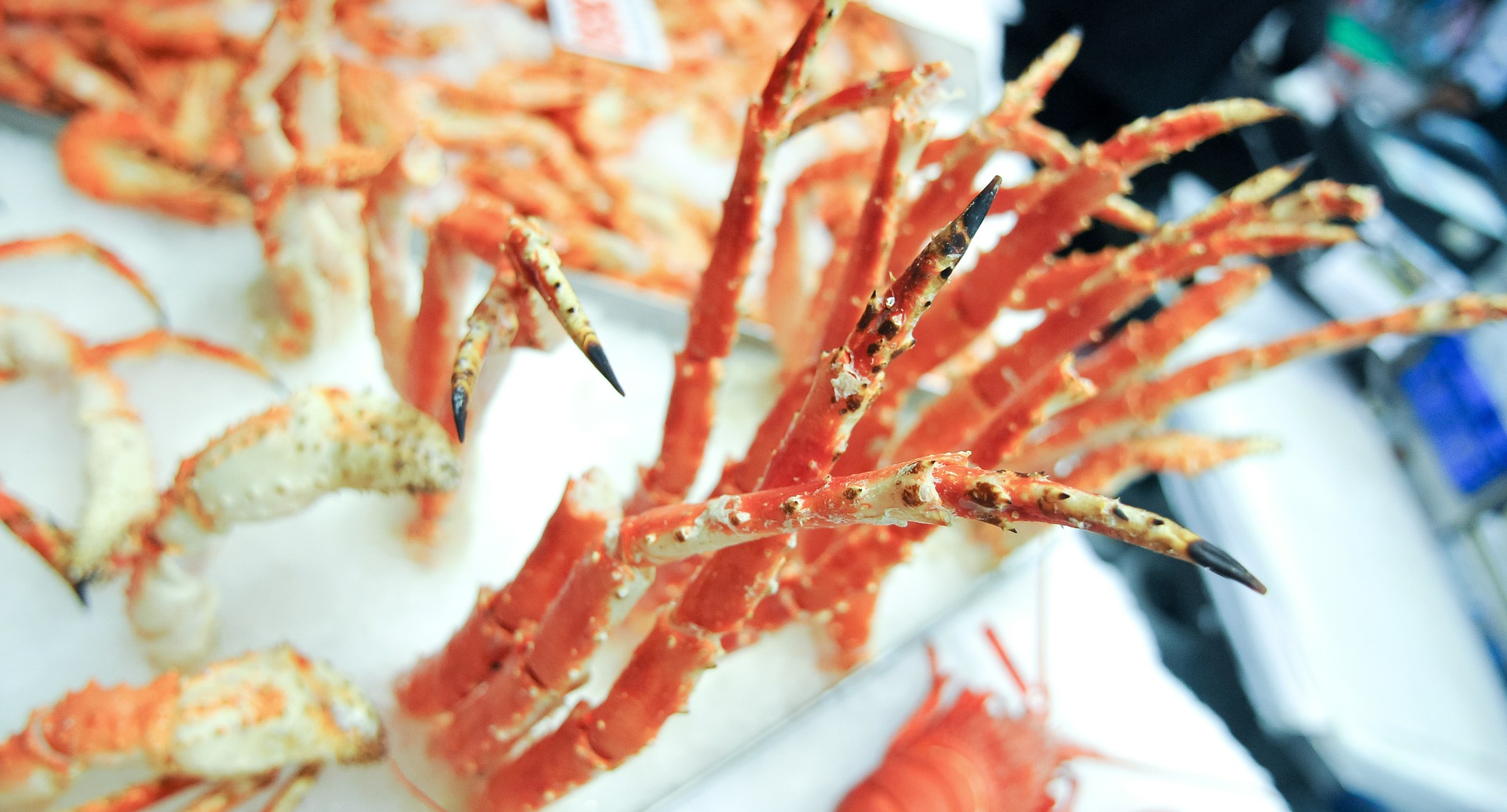 The history of Joe's Seafood, Prime Steak & Stone Crab, goes back over 100 years to 1913, when Joseph Weiss first began selling seafood out of his home in Miami Beach, Florida. They've been around for a century because they know what they're doing and have a passion for high-quality, authentic dishes, which have been translated here at the Las Vegas location.
This spot is an excellent option if you want upscale dining that isn't pretentious. Their welcoming ambiance includes a patio that overlooks the Forum Shops. Off their menu, the most popular dishes feature stone crab, as their name would suggest. You can also find overflowing plates of fried shrimp, colossal crab cakes, and seafood pasta. And there is plenty of meat and vegetarian options for those who don't eat fish or seafood. Top it all off with one of their signature cocktails before heading back to the casino.
Emeril's New Orleans Fish House
Emeril Lagasse is much more than a television personality or celebrity chef, although he certainly brings a lot of entertainment to his seafood restaurant here on the Strip. At Emeril's New Orleans Fish House in the MGM Grand, you can get all the Creole-influenced dishes you could dream of, with a focus on seafood. Start with barbecue shrimp or Louisiana-style broiled oysters, then share a half dozen fresh oysters, and for an entree, try the Chilean sea bass, Creole seafood boil, or baked Maine lobster.
Emeril's menu also comprises a wine list that has won accolades, so you're sure to have the perfect pairing. While you're tucking into your main course, be sure to leave room for some of the traditional southern desserts. We recommend their pecan pie or rhubarb crisp to complete your meal.
Michael Mina
Michelin Star and James Beard-winning chef, Michael Mina, brings his modern techniques and culinary prowess to this Las Vegas seafood restaurant, located in the famous Bellagio. Every dish is presented in style and meant to wow your eyes before your taste buds. Splurge on their tasting menu, which features contemporary variations of seafood classics, alongside a wine pairing. Dishes include phyllo-crusted sole and lobster pot pie. They also serve non-seafood options such as steak and foie gras. They also offer a vegetarian tasting menu that's equally pleasing to all senses.
Nobu Restaurant and Lounge
Nobu has two locations here in Las Vegas, the Virgin Hotel and Caesar's Palace. Chef Nobu Matsuhisa opened his first restaurant in 1987 in Los Angeles, expanding with other luxury sushi restaurants. The Caesar's Palace location was his most prominent and innovative establishment when it first opened. With over 300 seats, diners from all over the world could experience Nobu's sophisticated sushi and teppanyaki. Try their multi-course Omakase menu highlighting the variety of fresh Japanese seafood imported directly for this fine dining experience for the ultimate meal.
Urban Crawfish Station
Head to Urban Crawfish Station just off the Vegas Strip for something laid back and casual. Be prepared to get messy at this casual Cajun seafood establishment, where every entree comes with a mountain of paper towels. This spot is the place to visit if you want a pile of crab legs, a basket of fried catfish, a platter of shrimp, or even a classic low country boil, featuring seafood, sausage, corn, and potatoes.
For an authentic Southern experience, bring your whole family and order the Boulevard Combo, which features king and snow crab legs, lobster tails, crawfish, shrimp, and much more. You're guaranteed to have fun and get a little messy at this casual seafood restaurant. It's undoubtedly a different dining experience from the other spots we've recommended, but it's delicious and worth a visit nonetheless.
Enjoy Sensational Seafood in Las Vegas
These seafood restaurants will transport you straight to the ocean despite Las Vegas's desert location. With fresh ingredients flown in daily from a variety of locations, you're guaranteed the best fish, crab, lobster, and more here in Sin City.
We hope this list has given you some inspiration for your next trip to Vegas. Enjoy a large seafood platter, a perfectly seared salmon steak, or a low country boil before you visit the casinos and other sites. Did we miss your favorite seafood spot in the city? We're always looking to update our list, so let us know, and we'll add it to our recommendations.