Best Las Vegas Shows to See with the Family
A family trip to Las Vegas can be an unforgettable experience and a memory you will all share and treasure for many years. From swanky hotels and casinos to world-class shopping and world-famous shows, there is so much to see and do in this entertainment city. If you've got some kids in tow you might be looking for some kid-friendly shows that the whole family can enjoy. Don't worry, Las Vegas has plenty of amazing entertainment options to keep everyone happy. Here are some fun shows that children of all ages will be sure to enjoy.
Blue Man Group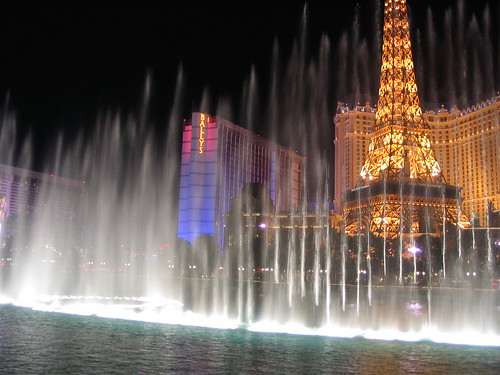 The Blue Man Group is a one-of-a-kind, all-ages show with three blue-painted performers in a musical comedy act which features plenty of audience participation. The shows are held in the Luxor Hotel and Casino located at 3900 S. Las Vegas Blvd. and can be seen Thursday through Monday at 5 p.m. and 8 p.m. with a regular starting price of $49 per ticket. The multi-sensory world of the Blue Man Group has delighted audiences from all around the globe with a unique blend of surprising comedy, colorful performance art, and music like you've never seen it performed before.
Popovich Comedy Pet Theater
Popovich Comedy Pet Theater is a daily show starting at 5:30 p.m. at the V Theater inside the Planet Hollywood Hotel and Casino. The family-oriented show features over 30 pets that have been rescued from animal shelters and given a fresh start as the stars of the show. The pets are accompanied in their tricks and acrobatics by the comedy and juggling skills of their costar, Gregory Popovich. Kids love to see all the animals showing off their skills, including dogs and cats, a pair of playful goats, and a miniature horse named Mr. Diamond.
Tournament of Kings
If you have a kid who loves sword fighting and legends like the Knights of the Round Table, then the Tournament of Kings is the perfect show to take them. This dinner show lets you enjoy a sumptuous meal while watching the entertainment. The 900-seat theater-in-the-round gives you an immersive experience as the tale of valor unfolds around you. General admission tickets start at $41.87 plus tax and fees and are available for ages 4 and over. Children under 4 are free to sit on a parent's lap and share their meal at no extra cost.
Murray the Magician
You may know of Murray the Magician from his time as a semi-finalist on America's Got Talent, his YouTube popularity, or his many other TV appearances. Or maybe this is the first you've heard of him and you want to know more. Murray is an award-winning Canadian-born comedian and magician who has delighted and wowed audiences around the world. He can be found headlining nightly at the Tropicana Resort and Casino on the famous Las Vegas Strip. His show will have you laughing one minute and gasping in awe the next as he performs his amazing feats of magic.
Terry Fator
Award-winning ventriloquist and entertainer Terry Fator performs with his ventriloquist dummies at the New York-New York Hotel and Casino in Las Vegas with ticket prices starting at $34.99. His new show is titled "Who's the Dummy Now?" and will captivate audiences of all ages and bring joy to any night out. At one of his shows, you'll be entertained by ventriloquist acts with humor, singing, and amazing performances from Terry and the dummies. Terry can do over 200 celebrity impressions that will amaze and astound with their uncanny accuracy, and you'll get to experience them for yourself at his shows.
The Magic of Jen Kramer
A show of breathtaking illusions and impossible sleight-of-hands, Jen Kramer will dazzle you with her talent and charm. Her shows are on Friday, Saturday, and Sunday evenings at 5 p.m. at the Westgate Cabaret in the Westgate Las Vegas Resort and Casino, and ticket prices start at $19.99. This event is for children 5 and over so it's a great pre-dinner entertainment for the whole family. Jen has been named the Female Magician of the Year by the International Magicians Society, and if you see her show you'll know why. A Jen Kramer magic show is an unforgettable family outing.
The Beatles LOVE by Cirque Du Soleil
For many people, The Beatles LOVE is the show to catch in Las Vegas. Young and old alike will be delighted by the display and kindle an appreciation for the music of the Beatles and a love of performance art. This 90-minute performance takes place at the Mirage and features 360-degree seating, stunning projection displays, colorful costumes, and a Grammy-winning soundtrack you won't want to miss that includes many Beatles' classics like "Yesterday" and "While My Guitar Gently Weeps." The performers bring the songs to life with daring aerial acrobatics, trampoline, and roller skate acts set to the music.
Cirque Du Soleil has many other shows that are appropriate for kids of all ages too. If you've seen The Beatles LOVE and want more you can check out Mystere, performed at Treasure Island. This is one of their original shows and features daring acrobatics, sparkling costumes, and mesmerizing dance routines. It is appropriate for all ages, with tickets costing $75. For children 5 and over you can attend the O water show featuring synchronized swimming and acrobatics that happen daily in the iconic Bellagio Resort and Casino.
Las Vegas has enough fun family shows to keep everyone happy for however long your visit to the entertainment city may be. Whether you want to be marveled by magicians, entertained by hilarious comedic acts, astounded by acrobatics, or by transported into the days of medieval knights, there are plenty of shows to delight all ages of children. At De Castroverde Personal Injury & Accident Lawyer we hope you have a wonderful time on your vacation to Las Vegas and that you check out some of the shows on this list. Contact us and tell us which show is your favorite.