Historical Landmarks in Las Vegas
While Las Vegas is known for its casinos and world-class entertainment, you may wish to experience a different side of Sin City. You may be surprised to learn there is quite a bit of history in Las Vegas. For a quieter, more relaxed time in the Entertainment Capital of the World, plan a visit to one of these popular historical landmarks with family or friends.
Old Las Vegas Mormon Fort Historic Park
Home to some of the oldest buildings constructed by pioneers heading west, The Old Las Vegas Mormon Fort Historic Park is where the Mormon Church first settled in 1855. Built by William Bringhurst and many of his fellow missionaries, this adobe fort was a way station for travelers on their way out west. In 1865, the fort was purchased by local miner Octavious D. Gass and then bought by ranchers Archibald and Helen Stewart in 1881. In 1902, San Pedro, Los Angeles, and Salt Lake Railroad bought it. Today, the area is preserved as a historical landmark and gives visitors an idea of what life was like in Las Vegas' early years.
When you visit, you will learn about the early settlers and what how they lived every day. Discover historical artifacts like a cake griddle, wooden spatula, wooden doll, and apple corer. Be sure to stop by the reconstruction of a soldier's living quarters, where they had simple yet secure accommodations. You'll also spot an 1850s freight wagon, the "Garden in the Desert" exhibit where you can see the types of vegetables grown by the early settlers, and a peaceful creek where many of them gathered their daily water.
Don't forget to visit the gift shop where you can pick up some natural soap, Native American tea, snacks, photo frames, and other souvenirs. The Old Las Vegas Mormon Fort Historic Park is located at the far north end of the Strip where Las Vegas Blvd and Washington Ave meet. Cost is $1 for adults, and children 12 and under can visit free.
Springs Preserve
Springs Preserve is known as the birthplace of Las Vegas. At over 180 acres, this historical site offers you a chance to learn about the city's past, present, and future. It's also home to the 70,000-square-foot Nevada State Museum where you can explore the history of the Silver State.
Discover a wide variety of exhibits, shows, and events like Boomtown. Each day you can walk, bike, or ride the train to this free exhibit which is a re-creation of what Las Vegas looked like in 1905. The kiddos will absolutely love the Butterfly Habitat. Gaze at the various types of butterflies and insects housed here. Admission begins at $2. The Natural Mojave Gallery teaches visitors about the geological history of the Mojave Desert where kids can play with fossils, learn about erosion, and see how desert animals live.
The preserve is located about 10 – 15 minutes from the Vegas Strip on S. Valley View Blvd. Ticket prices are $10.95 for children five to 17 years, $17.05 for seniors 65 and older, and $18.95 for adults. Children four years and younger can visit for free.
The Mob Museum
If you are curious about the history of the Mob, then you have to visit the Mob Museum. Located in downtown Las Vegas on Stewart Ave and Third St, by the Main Street Station, this interactive attraction is filled with exhibits and displays about the history of organized crime in Las Vegas.
Get an inside look at the actual courtroom where the Kefauver hearings took place. These were the first mob-related events to be televised. Observe a wire-tapping station where you can listen to actual recorded conversations, read testimonies of FBI agents, and try your hand at an FBI firearms training simulator. The highlight of the Mob Museum is the brick wall from Chicago's Valentine's Day Massacre in 1929, where even some members of the Moran gang were murdered by Al Capone's South Side Italian gang.
As you walk through the museum, you'll see items that belonged to famous mobsters like Al Capone, Charlie Luciano, Sam Giancana, Frank Rosenthal, and Mickey Cohen. There are many other artifacts on display such as guns, weapons, jewelry, personal items, and photographs.
Hoover Dam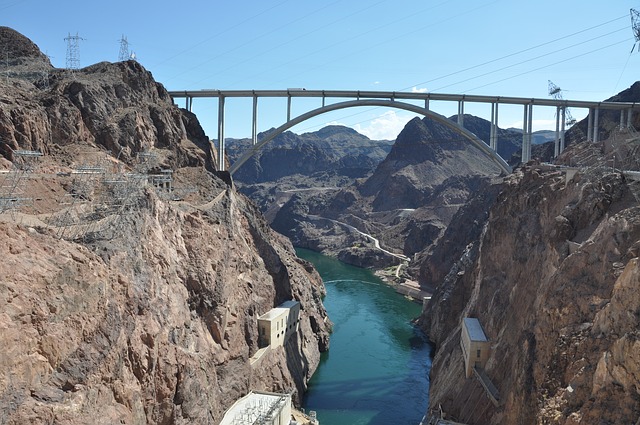 Named after the 31st president of the United States, the Hoover Dam is one of the most popular historical attractions near Las Vegas. It's considered one of the top 10 construction triumphs of the 20th century. It was also an instrumental part of President Hoover's career, as he used the dam to settle a 25-year controversy over water allocations between nearby states.
Construction began in 1931 and was completed in 1936. Not only was it finished before the proposed end date, but it also came in under budget. The dam stands at more than 750 feet above the Colorado River and produces 4 billion kilowatts of electricity each year with its 17 generators. It's one of the country's largest hydroelectric power facilities.
In 2010, the Mike O'Callaghan – Pat Tillman Memorial Bridge was built about 1,500-feet south of the Dam, allowing visitors to view this magnificent landmark from a high vantage point. When you cross the 1,900-footbridge, you will walk from Nevada to Arizona, just like that! Be sure to bring your camera or cellphone as you will be amazed by the spectacular views of the Colorado River and Lake Mead.
If you'd like to only stop at the Visitor Center, admission is $8 per person. Tours of both the Hoover Dam itself and the power plant are available. Tickets for the dam tour are $30 per person and are available on a first-come, first-served basis. Tickets for the power plant tour are $11 for adults, $9 for those 62 and older and active U.S. military personnel, and $9 for children ages four to 16. Children three years and younger can visit for free. The Hoover Dam is located about 30 miles south of Las Vegas on U.S. 93.
Now that you know more about the history surrounding the Las Vegas area, which one of these historical landmarks will you plan to visit first? If there's a favorite of yours that we didn't mention, feel free to contact us. We'll be more than happy to add it to our list.